Buy with a Friend!
1. How Group Buy works?
Step 1: Buy a deal for yourself
Step 2: Share it with a friend, so they can get the same deal using your special link
Step 3: Both you and your friend get Upsized Cashback once your friend has also bought the deal
2. Where can I find the deal with Upsized Cashback?
Look for these 2 buttons on the deal's detail screen, where it shows how much Cashback you can get by buying either with a friend or alone.
Only selected deals are eligible for Upsized Cashback.
3. Where can I find my special link?
Once you've bought a deal, you can find your special link on the deal's detail page.
Simply tap the 'Share with a friend' button to share your special link with friends.
4. Can I get Upsized Cashback if I share the deal with more than 1 friend and they all buy it too?
You can only get Upsized Cashback with 1 friend for now. If you share it with multiple friends and any one of them buys the deal using your special link, other friends won't be able to buy using the same link.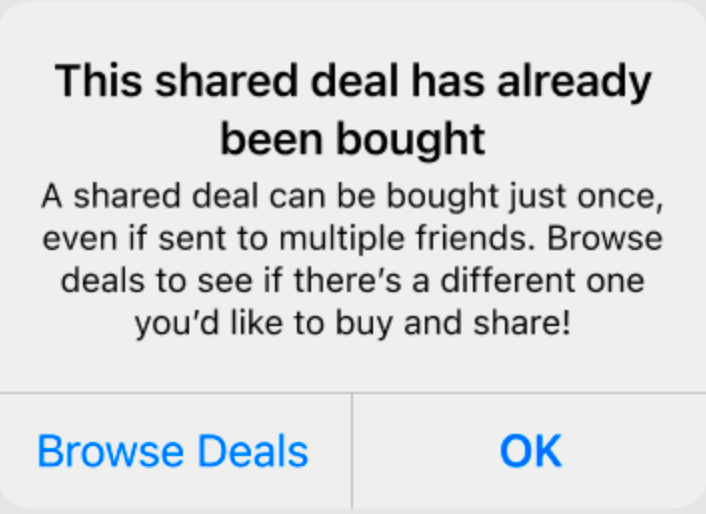 5. Is there a time limit for me and a friend to buy the deal to get Upsized Cashback?
Yes – you have 48 hours from the moment you complete buying a deal, to share with a friend and for them to buy it too. Even if you share it immediately but your friend buys it after the 48-hour window has passed, you'll both get the base Cashback amount instead of Upsized Cashback.
No extension is given for expired link / shared link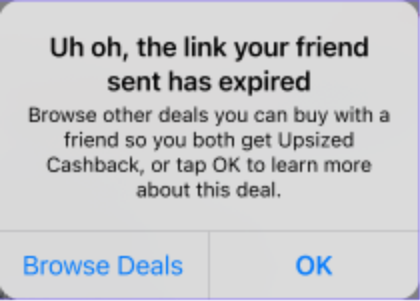 6. If I buy a deal and use it, can I still share it with a friend for them to buy?
Yes, as long as it's all done within 48 hours of you buying the deal first.
7. When and how will I get my Upsized Cashback?
When you buy the deal, you will first get the base Cashback amount. Once your friend has bought the same deal using your special link, the remaining Cashback will be added to your account to total the Upsized Cashback amount.
Here's an example with a deal that gets you 1% Cashback if bought alone and 10% Cashback with a friend:

Step 1: You buy a deal → you get 1% base Cashback
Step 2: You share it with a friend
Step 3: Your friend buys the deal → they get 10% Upsized Cashback, you get the remaining 9% Cashback to total 10% Upsized Cashback.
The Upsized Cashback will only turn Confirmed once the deal is redeemed and the Upsized Cashback will be Rejected if the deal is voided/expired
Pro Tip: Enable your push notification(s) so you'll know when the Upsized Cashback is added to your account!
8. How do I know if my friend has bought the deal using my special sharing link?
If your friend buys the same deal using your special link, you'll see confirmation of it on that detail deal's detail screen, like this:

Please be informed that all deals are while stock lasts. Do inform your friends to make the purchases as soon as possible to enjoy the Upsized Cashback. No refunds will be made for expired or out of stock deals.
If you have any further queries, please do not hesitate to click here and we will be glad to assist you!
Can't find what you need? Reach out to us!